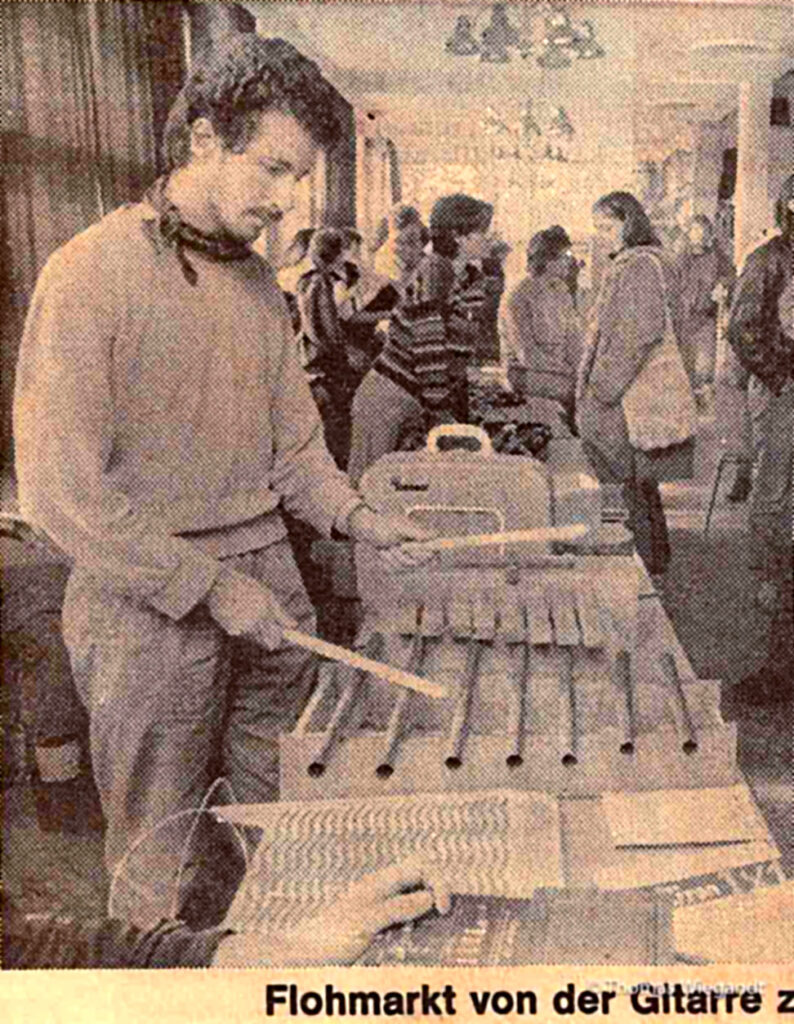 ---
Sitalin
An overtone long neck lute, a cross breed between sitar and mandolin.
Stonephone
A major octave from resonant stones from Bantry Airstrip Beach (1989)
Koto – a fake attempt
Antique Bavarian Kerschensteiner harp-zither transformed with movable bridges into a Japanese Koto.
Thomas Wiegandt + Jeremy Baines – Time Temple: Reflections (1989)
CD : Thomas Wiegandt – Present Moments – Music For Zen Harp
Recycled Junk Metallophones
Inspired by Balinese Gamelan music and the over-abundance of materials in wasteful western countries.
The Junk Metallophones have been worked into polyphonic metallophone sets tuned to Gamelan scales or good sounding random scales, thus expanding the musical possibilities of expression. They are inexpensive player-friendly instruments, i.e. everyone with an open, social and respectful approach can play them. The sounds are pleasant and have a healing quality.
Euklang
The Euklang (1988) is a metallophone drum made of aluminum from the spinning cylinder of a 60's twin tub washing machine.
https://myspace.com/unusualsounds
Circular Chimes
Copper pipes of different length suspended from a circular top. These can be played by moving the top resulting in that the pipes to hit each other and create an inter-modulated sound. They can be played very gently and sensitively (very sweet), but also madly and thunderously (which can be unpleasant)
Album: Master of None
PanDemonium
Recycled frying pans worked into randomly tuned polyphonic metallophone sets by using the angle grinder. This sweet sounding musical instrument has a raw outer appearance, ideal for playing ambient outdoor sonatas.(2014)
Bells Of Freedom
Made from old aluminium buoys, found at local beaches. The buoys are cut in half and produce a soft and dreamy sound. They are suspended in a rack and are played as a metallophone. (2020)
Dessert Bowl Gamelan
Various sets assembled since 1993 as a miniature kitchen Gamelan. They can be tuned by pouring water, in or out, to lovely random scales, never heard before. Outside you can leave the rain tune them and then do some fine tuning adjustments. The Dessert Bowl Gamelan has a huge musical potential for curious and exploring musicians as well as the philosophical message to try and accept new scales.
Sound Space (a.k.a. Ballybane Gamelan) in the Magic Forest Ballybane: assembled musical instruments of player friendly sound objects mainly made from discarded or dumped metal objects and big plastic drums and barrels. (since 2013)
KlingKlong
Recycled aluminum pots worked into randomly tuned polyphonic metallophone sets by using the angle grinder. This sweet sounding musical instrument has a raw outer appearance, sometimes resembling Gamelan instruments.(2014)
Cosmeng
Pressure cooking pot lids with a unique sustained sound in a pleasant random tuning. (2014)